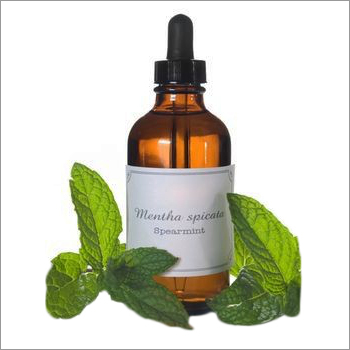 Spearmint Oil
Product Code : 213
Product Description
In this market of essentials, we are highly reckoned for exporting an excellent stock of Spearmint Oil. This oil blends well with various essential oils such as jasmine, basil, eucalyptus, lavender and rosemary. It is highly useful in cases of indigestion, gas as well as colic. High in demand in the field of medicines owing to its preventive and curative properties, this Spearmint Oil is offered to clients at highly competitive price only after inspecting its quality on standard parameters.
Key points:

Beneficial in skin care
Excellent cure for fatigue, migraine, strain and stress
Refreshes the mind

Spearmint Oil

Spearmint Oil is extracted from the naturally found Mentha spicata, which is also known as Mentha viridis of the Labiate family. This is also known as common or garden spearmint and spire, lamb, green, pea and fish mint
Oil properties
It's aroma is very much like the aroma of peppermint oil, however, it is marginally sweeter and is pale yellow to greenish in colour.
Origin :
Native to Mediterranean area, Mentha spicata is a hardy perennial herb that grows up to 1 meter in height. Sporting lilac or pink-colored flowers it boasts of a bright green lance-shaped and sharply serrated leaves.
As opposed to peppermint, spearmint lacks high amount of menthol. Greeks of the ancient times add the spearmint oil for making the bath water scented; the oil also believed to have properties of treating gonorrhea, one of the most common sexually transmitted diseases. During the medieval period, the spearmint oil was recommended for healing sore gums as well as whiten teeth.
Extraction
It is obtained by the steam distilling process of flowering tops.
Therapeutic properties
Spearmint oil's therapeutic properties are antispasmodic, antiseptic, cephalic, carminative, emmenagogue, restorative, insecticide and stimulant.
Uses
Spearmint oil is good to use when you are fatigued and need relaxation and up liftment of mood. Gentle application of the oil drives out the tiredness and refreshes your mind. Having properties similar to peppermint oil, it contains small proportion of menthol, which is why it is less harsh on the skin and suitable for children also.
The oil is also good for treating problems related to digestive system, including constipation, flatulence, nausea and diarrhea. It relaxes the stomach muscles and also get you rid of hiccups.
Moreover, it is good for use in migraines, headaches, nervous strain, stress and fatigue as well as for healing the problems of respiratory tract; it is effective in healing bronchitis, asthma, sinusitis and catarrh. Besides, it also relieves skin itching of pruritus and is good for treating dermatitis, sore gums and congested skin.
For the female, it is useful in stemming the flow during heavy periods and leucorrhoea, and effective in urine retention.
Certificate of Analysis

Botanical Name

Mentha Spicata

Plant Part

Flower Head,

Extraction Method

Steam Distilled

Origin

INDIA

Color

Pale Yellow with a Slight Green Tinge

Consistency

Light

Note Classification

Top

Strength of Aroma

Medium

CAS #

8008-79-5

FEMA #

3032

Container Type

Aluminium Bottles and G.I Drums o 180 kg

Specification

Appearance

Colorless to Yellow Green Liquid

Odor/Taste

Characteristic warm herbal penetrating odour, sharp, pungent taste

Specific Gravity

0.917-0.934

Refractive Index

1.484 to 1.491 (1.488 )

Optical Rotation

-45° to -60° (-54.25)

Solubility

Soluble and Ether




Storage Situation

Storage

Stored in a cool & dry well-closed container, keep away from moisture & strong light / heat.

Shelf Life:

Two years under well Storage situation & stored away from direct sun light.