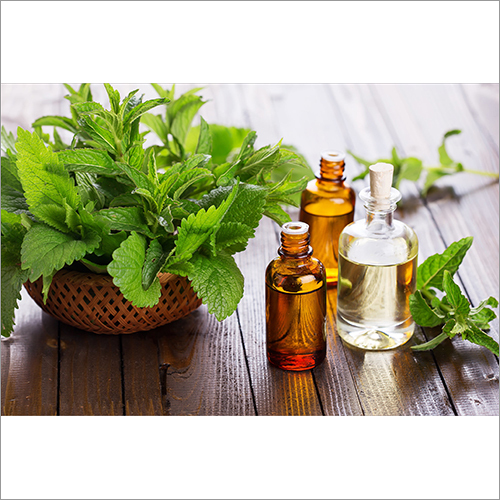 Peppermint Oil
Product Code : 214
Product Description
Our company is counted among the topmost manufacturers in global market place, highly reckoned for exporting an excellent stock of Peppermint Oil. Wisely extracted under the guidance of senior professionals using stem distillation process, this essential oil is characterized with a strong, fresh, clean and minty aroma. Slightly yellow in color, it finds wide application in food and beverage industry. We offer this Peppermint Oil to clients at highly competitive price.

Benefits:
An excellent ingredient in skin and hair care products
Increases concentration
Stimulates the mind
Peppermint, also known as Mentha piperita, is one of the earliest and most sought after herbs for aiding normal digestion that also includes promoting gastrointestinal system comfort ability and healthy intestinal function

Our company is a reliable exporter and manufacturer of Indian Peppermint Oil (Mentha Piperita Oil). Having excellent technical competence and production knowledge, we are well-equipped to produce Peppermint Oil in consonance with customers' technical specification.

Specifications of Peppermint Oil (Mentha Piperita Oil):

100% Natural Guaranteed
100% pure and Natural Piperita Oil.
Similar to IP/EP/BP standards.
Certificate of Analysis
| | |
| --- | --- |
| Product | Peppermint Oil |
| Lot No. | K-1551-KE-2015 |
| Manu Dt. | May-2015 |
| Best Before | May-2017 |
| Appearance | Fluid liquid |
| Extraction Method | Steam distillation |
| Colour | Colorless to Yellowish, clear free from sediment, suspended matter, separate water and adulterants |
| Odour | Characteristic strong minty herbal followed by cooling sensation. |
Physico- Chemical Properties: - Results Specification
| | |
| --- | --- |
| Relative Density | 0.897 (0.890 to 0.916) |
| Refractive Index | 1.4580 (1.457 to 1.467) |
| Optical Rotation | 18.00 (-10 to -30) |
| Solubility | 1 ml dissolves in 3.5 ml to 4 ml |
Major Components: -
| | |
| --- | --- |
| L-Menthol | 28.00% (25 55%) |
| L Menthone | 28.90% (14 32%) |
| Menthyl Acetate | 4.50% (2.8% to 10.0%) |
| Iso Menthone | 4.88% (1.5% to 10%) |
| Mentha Furan | 4.92% (1% to 9.0%) |
| L - Limonine | 2.80% (1.0% to 5.0%) |
| Cineol - | 5.87% (3.50% to 14.0%) |