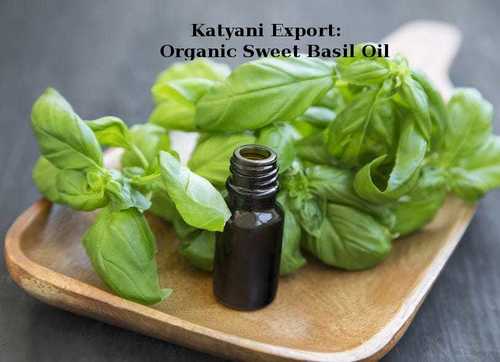 Organic Sweet Basil Oil
Product Code : KE-Basil
Product Specifications
CAS No

:

8015-73-4
Appearance

:

Pale Yellow Greenish
Product Description
Pure and fresh, this Organic Sweet Basil Oil is well-processed from the basil herb with the help of latest technology. This essential oil can be used to enhance focus and alertness or to add a little extra flavor while cooking. It has a warm, spicy and herbal aroma. This oil is known to reduce anxious feelings as well as provides great benefits to both the mind and body and also, has a cooling effect on the skin. Organic Sweet Basil Oil is also used in cooking to add a fresh, herbal flavor to meats, pasta, and other dishes.
Features:
Effective in revitalizing dull hair and skin
Reduces indigestion due to its carminative properties
Improves blood circulation\

Botanical Name - Ocimum Basilicum

Country Of Origin- India

Methods of Extraction - Steam Distillation

Solubility - Insoluble in water and soluble in alcohol and Oil

Uses :-

It Stimulates Mind

It give relaxed to mind

It helps in fevers
It helps in treating menstrual problems
It helps in improve skin tone & protects skin from acne
It helps to treat asthma , Bronchitis , Sinusitis & infections
It helps in treating constipation
This oil is a very good tonic for healing in stress headaches & nervous disorders , migraines & allergies
It helps in treating indigestion.
It is also called the king of herbs.