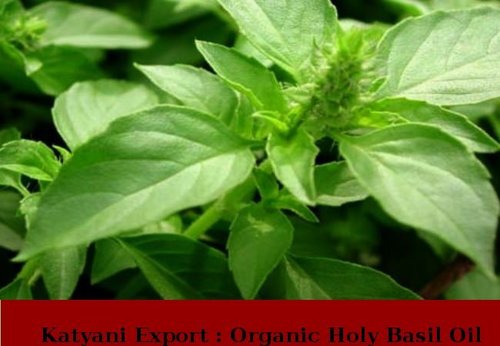 Organic Holy Basil Oil
Product Code : KE-Holy Basil
Product Specifications
CAS No

:

8015-73-4
Odour:

:

Pale Yellow Liquid With Sweet , Spicy and Fresh Aroma
Product Type

:

Pure Essential Oils
Product Description
Organic Holy Basil Oil is widely used in Ayurvedic medicines that help to protect you from many infections. This oil is high in anti-oxidant that helps to vitalize and stimulates your body. It helps to cure cough & cold and also treat from many infections. In India, it is extensively used for worshiping purpose. Basil is an excellent antibiotic, germicidal agent that helps to cure fever. Apart from this, Organic Holy Basil Oil is extensively used for processing essential oil.
Features:
Prevents heart disease
Reduces stress
Acts as mouth freshener

Botanical Name - Ocimum Sanctum

Country of Orgin - India

Methods of Extraction - Steam Distillation

Solubility - Insoluble in water and soluble in alcohol and Oils

Uses :-

The Oils helps in nervousness and strain

This Oil act as a purifying agent

It is beneficial for skin
This oil can be used to treat inflammation , Stop bleeding & kill microbes
It has properties of anti viral and anti bacterial & antibiotic.

It is also used in treating respiratory diseases.
This oil helps to remove anxiety

Note :- Basil Oil has huge proportion of Eugenole a chemical ingredients.