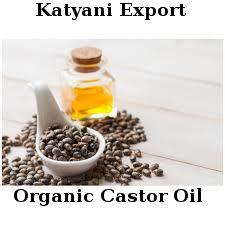 Organic Castor Oil
Product Code : KE-Castor
Product Specifications
Odour:

:

colorless to very pale yellow liquid with a distinct taste and odor
Product Type

:

Pure Essential Oils
Product Description
The Organic Castor Oil is usually colorless or pale yellow with a very mild odor. It is extracted through pressing by using castor seeds. The nutritional content of this oil is rich in ricinoleic acid, omega-6 and 9 that makes it highly beneficial for health and skin. This organic oil has antiviral, antibacterial and anti-fungal properties that helps to heal and cures various infection and disease. It is trending as an important raw material in the production of various cosmetics, soaps, textiles, massage oils, and even medicines. This Organic Castor Oil helps to boosts immunity level due to enriched with Vitamins and minerals.
Features:
Good source of fatty acids, vitamin E
Helps to boost blood circulation
Relieves constipation

Botanical Name - Ricinus communis
Country Of Origin -India

Methods of Extraction-Cold Pressed

Uses:-
It is best for the hair growth

Anti -Inflammatory qualities equivalent to capsaicin
It relieves anthritis symptoms
It soothes Joint pain.

It helps alleviate constipation
It fades acne scars
It is protective , regenerative and softening for the skin
It cares for brittle nails and hands.