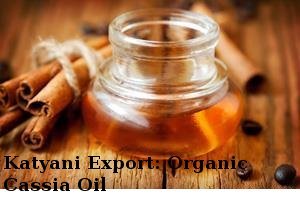 Organic Cassia Oil
Product Code : KE-Cassia
Product Specifications
Product Type

:

Pure Essential Oils
Product Description
Our fresh and pure quality of Organic Cassia Oil is similar to the cinnamon oil. It is and essential oil that has extensive usages to add in perfumes and is widely used as a flavoring agent in food, beverages and pharmaceutical preparations. This organic oil assists in improving digestive issues and has been found beneficial in treating fevers, colds, flu, and chills when used in vapor therapy. Due to its great healing properties, the Organic Cassia Oil has antiseptic, anti-diarrhea, and antiviral properties that is worth adding in your medicine cabinet.
Features:
Highly beneficial for digestive system
Relieves rheumatism
Improves blood circulation

Botanical Name - Cinnamomum cassia
Country of Origin - China and Burma
Methods of Extraction-Steam Distillation

Uses:-
It treats Nausea and Vomiting

It helps to lower the temperature during high fever
It is also effective in viral infections

It cures diarrhea
It provides relief from joints pain
It improves Blood circulation

It is good antidepressant

It gives strength to gums , hair roots and tightens the muscles
Note:- Avoid during pregnancy.