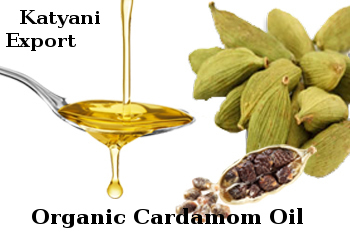 Organic Cardamom Oil
Product Code : KE-Cardamom
Product Specifications
Odour:

:

Pale yellow , blasamic in fragrance
CAS No

:

8000-66-6
Raw Material

:

Seeds
Product Type

:

Pure Essential Oils
Product Description
Organic Cardamom Oil is well known for reducing spasms. This oil is properly extracted from the cardamom seeds through steam distillation process. Our oil is widely used in various traditional medications due to its therapeutic properties. It helps to destroy and slow down the growth of harmful microorganisms due to the presence of microbial properties. Apart from this, the Organic Cardamom Oil helps to promote overall health and is also beneficial for your skin.
Features:
Rich source of vitamin C and manganese
Helps to fight against premature ageing due to the presence of antioxidants
Acts as disinfectant that helps to treat scalp infections

Botanical Name -Elettaria Cardamomum

Country of origin - India

Methods of Extraction -Steam Distillation

Solubility - Soluble in alcohol and other organic solvents and insoluble in water

Uses:-
This Oil is useful in digestive System

It helps in the problem of heartburn

This oil warms the stomach
This oil gives relaxation mentally and refreshment.

In the case of impotence & low sexual response this oil is very helpful.

This oil has the properties of therapeutic like as antiseptic, antispasmodic , carminative , cephalic, digestive , Stimulant etc.