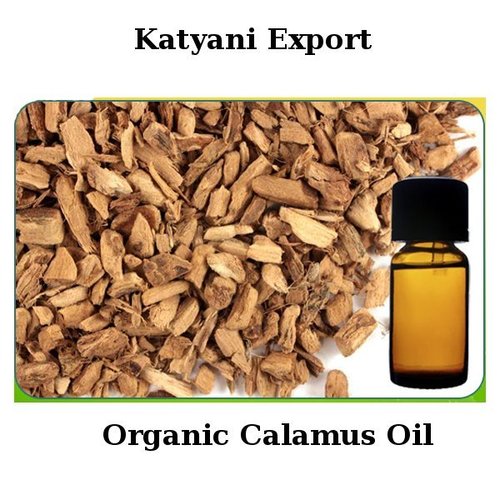 Organic Calamus Oil
Product Code : KE-Calamus
Product Specifications
CAS No

:

8015-79-0
Odour:

:

yellow brownish liquid and odour of calamus
Product Description
Our pure and fresh quality array of Organic Calamus Oil is obtained by the process of steam distillation from the roots of the fragrant Sweet Flag plant. It is is a great aromatherapy oil that alleviates problems like memory difficulties and loss of concentration and works as a stimulant for the mind and the body. It has a sweet, uplifting and refreshing aroma with yellowish brown color. In addition, the Organic Calamus Oil improves blood circulation to the brain, alleviates anxiety, stress or tension and relieves arthritis pain. It is generally found in Northern Asia. Roots of this plant is also used in making various herbal medicine.

Features:
Helpful in mild fever
Non-adulterated
Helps to cure bacterial infection
Botanical Name- Acorus Calamus

Country of Origin - Northern Asia
Method of Extraction - Steam Distillation
Solubility - Not applicable
Uses :-
This oil is stimulant , antibiotic and circulatory.

It helps in headaches and other nervous system complaints.

It generally improves memory power.
It is used to reduce swelling of joints of our body.
It keeps calm to our mind
It is also used in treating dysentery and Vertigo.