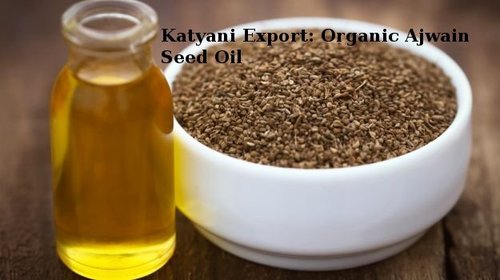 Organic Ajwain Seed Oil
Product Code : KE-OASO
Product Specifications
Raw Material

:

Seeds
Product Type

:

Pure Essential Oils
Product Description
Our pure and fresh quality of Organic Ajwain Seed Oil is extracted by the steam distillation process by using organic Ajwain Seeds procured from esteemed vendors. This oil acts as flavoring agent and used for home medication since ancient time. It is highly beneficial for health as it helps to provide instant relief from indigestion or acidity. In addition, the Organic Ajwain Seed Oil is an almost colorless to brownish liquid that helps to cure mouth problems such as bad breath and mouth-ache.
Features & Uses :
Treatment of digestive disorder
Home remedy for treating asthama
High nutritional and medical usages
The oil stops free radical
It removes the signs of aging
Ajwain oil reduces the secretion of nitric acid in the body
It is an Inflammatory agent.
It is used in treatment of respiratory diseases like cold, cough, respiratory infection, sinus congestion, etc.
The oil can kill various types of bacteria which are harmful to human body
It is a good ointment for the treatment of fungal infections like yeast, molds.
Ajwain Oil is an insect repellent too.