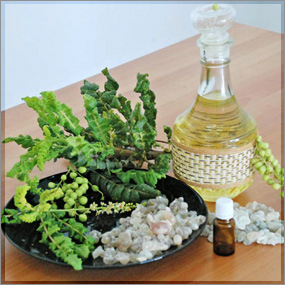 Olibanum Oil
Product Code : 217
Product Description
Across global market place, we are highly renowned as the topmost manufacturers, best known for exporting Olibanum Oil. The oil is wisely extracted using the process of steam distillation under the guidance of professionals. This essential oil features rich balsamic woody and fresh terpenic smell. Extensively used in oriental bases, ambres, powder type perfumes, floral perfumes, spice blends, citrus colognes, violet perfumes and men's fragrances. This Olibanum Oil blends well with oils like cedarwood, basil and ginger.
Key points:
Excellent skin tonic
Great relaxant effect
Beneficial for muscle ache and joint pains

Olibanum Essential Oil's health benefits can be credited to it's intrinsic properties as an antiseptic, astringent, disinfectant, cicatrisant, carminative, cytophylactic, diuretic, digestive, emenagogue, expectorant, tonic, sedative, uterine and vulnerary substance.
Frankincense Oil is obtained from the resin or gum from Frankincense or Olibanum trees, which has the scientific name, Boswellia Carteri. The main constituents of Olibanum Oil are Alpha Pinene, Bornyl Acetate, Actanol, Linalool, Octyl Acetate, Incensyl Acetate and Incensole. For centuries, Frankincense has been a famous ingredient used in cosmetics and incense burners. The trace of its presence has been found in the remains of ancient Anglo-saxon and Egyptian civilizations. Moreover, it is closely related with various religious traditions and rites, especially in the Christian tradition.
Certificate Of Analysis
Product - Olibanum Oil

Lot No. - K 2010 2015
Manu Dt. - May - 2015
Best Before - May - 2017
Appearance - Mobile liquid
Colour - Pale Yellow to Light Yellow
Odour - The odour is Strongly diffusive, Fresh
Terpency - Almost Green Lemon like Sweet
Woody - Balsamic undertone.
Botanical Source - Boswellia Serrata (Fam: Burseraceae)
CAS No. - 8016-36-2
FEMA No. - 2816
Physical-Chemical Properties:-
Specification Results
Specific Gravity@20 - 0.8350 To 0.8890 0.843
Optical Rotation - -15º To +35 +29.50
Refractive Index@25 - 1.450 To 1.487 1.458
Thujene - 55%-80% 74.58%