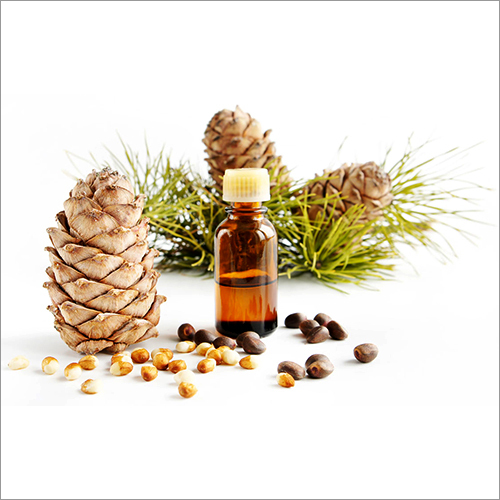 Cedarwood Oil
Product Code : 219
Product Description
Since our inception in this domain, we have been emerged as one of the topmost manufacturing companies, best known for exporting Cedarwood Oil. Characterized with a light sweet, woody and subtle aroma, this essential oil is wisely extracted under the guidance of senior professionals through steam distillation process. Extensively used as an important ingredient in cosmetics, insect repellents and medicines, Cedarwood Oil viscous in nature. It is offered to clients in varied air tight and leak proof bottles.
Key points:
Yellow to orange in color
100% herbal
Long shelf life

Cedarwood Essential Oil is obtained by the process of steam distillation of the wood pieces of Cedar Wood tree, having the scientific name Juniperus Virginiana (also known as Cedrus Atlantica, Cedrus Doedara. and Cedrus Libani, contingent upon the regions where they grow). However, the diverse and complex names of cedar wood essential oil do not impact the several medicinal uses of the oil.

Cedarwood Essential Oil is popular for its attributes as an antiseptic, antiseborrhoeic, antispasmodic, astringent, tonic, diuretic, expectorant, emenagogue, insecticidal, fungicidal and sedative. Cedarwood is primarily a plant native to cold climates and is generally found at great heights. The main constituents of Cedarwood Essential Oil are Alpha Cedrene, Cedrol, Beta Cedrene, Thujopsene, Widdrol and a group of Sesquiterpenes, which bestow a great deal to its medicinal properties and health advantages.

Ref No/FO/KE/2015
CERTIFICATE OF ANALYSIS
Product name : Cedarwood Oil "
Batch number : K 3325KE 2015
Manufacturing Date : May - 2015
Expiry Date : May - 2017
Variety Of Cedarwood Essential Oil:

Himalayan Cedarwood Oil
Cedarwood Oil Texas
Cedarwood Oil Virginia
Technical Details:

Parameter

Specification

Result

Appearance

Yellowish to Brown Yellow

Complies

Odour

Characteristic

Complies

Specific Gravity At 25ºC

0.939 to 0.958

0.947 gms

Refractive Index At 25ºC

1.510 to 1.538

1.512

Optical Rotation At 25ºC

1 to +45

+34.5

Solubility

1 ml dissolves in 70%


Complies

Stability And Storage - Keep in tightly closed in container in a cool and dry place, Protect from light