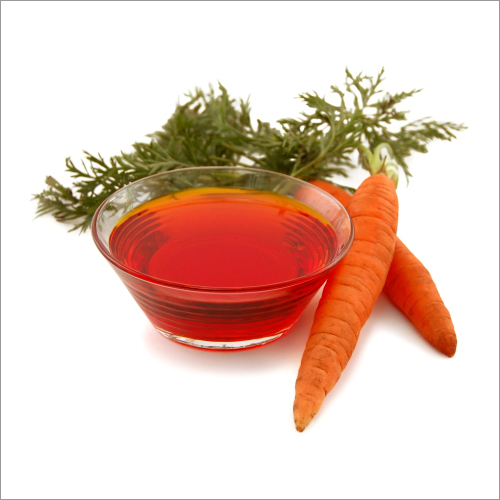 Carrot Seed Oil
Product Code : 218
Product Description
In domestic as well as international market, our company is best known for exporting an excellent stock of Carrot Seed Oil. It has a dry, slightly sweet, earthy aroma. A rich source of carotene and Vitamin A, this Carrot Seed Oil is an important ingredient in the products that are beneficial for promoting healthy skin, teeth, hair and gums. This essential oil is a non-irritant and non-sensitizing agent and hence, widely used in aromatherapy.
Acts as an:
Antiseptic
Anthelminthic
Diuretic
Emmenagogue
Carminative
Depurative
Hepatic
Stimulant

Carrot seed oil is extracted from the dried seeds of the wild carrot plant (Daucus carota), which belongs to Umbelliferae or Apiaceae family. The plant is an annual or biennial plant sporting hairy leaves and umbels of white lacy flowers having purple centers. Also, fashionably called wild Queen Anne's lace, the native origins of this plant can be traced to Egypt, India and France.

Some of the special characteristics of Carrot seed include viscous consistency in the oil with yellowish brown color, and a sharp earthy, woody, and root-like fragrance.

Uses of Carrot Seed Oil

In conventional Chinese medicine, carrot seed oil has the proven benefit of treating dysentery through expelling of worms. In addition to this important use, the carrot seed oil has the following usage:

Added to sauces and spicy foods in several Asian cuisines
Mixed with other oils to diffuse a woody aroma in aldehydic and oriental perfumes
Applied as a lotion to naturally and efficaciously moisturize and the skin
Applied as a massage oil or bath oil to get relaxation from muscle pain
Composition of Carrot Seed Oil

The chief chemical ingredients of carrot seed oil are a-pinene, b-pinene, camphene, sabinene, myrcene, limonene, y-terpinene, geranyl acetate, b-bisabolene, and carotol. It mixes well with a broad spectrum of essential oils, such as botanical, spicy, or citrus oils. These include bergamot, juniper, lavender, lemon, lime, cedarwood, and geranium oils.

It mainly contains the widely known pigment carotene; however, it does not contain vitamins A and E or pro-vitamin A that are found in the root.

Benefits of Carrot Seed Oil
Carrot seed oil has properties of antiseptic, carminative, cytophylactic, depurative, diuretic, emmenagogue and vermifuge. It is also popular for used in vapor therapy or aromatherapy as a finest anxiety and stress buster. Also, it is known for being effective in ameliorating the digestive functions.

Carrot Seed Oil - Health Benefits

Eases hiccups, flatulence and colic
Heals skin disorders like boils, abscesses etc.
Assists to stimulate the appetite
Helps in correcting the gall bladder and liver disorder, especially hepatitis, colitis and enteritis
Nurtures, stiffens and rejuvenates the skin
Acts as a pain reviler in menstruation pain
Stimulates the lymph system
Helps in treatment of jaundice, ulcers and kidney stones
Carrot seed oil is also popularly used in aromatherapy or vapor therapy a superb stress and anxiety buster and an effective improver of digestive and functions.

CERTIFICATE OF ANALYSIS
| | |
| --- | --- |
| Product | Carrot Seed Oil |
| Batch No. K | 2695 KE - 2015 |
| Manu. Date | May - 2015 |
| Best Before | May - 2017 |
| Appearance | Fluid liquid |
| Colour | Light Yellow to Pale Yellow |
| Odour | The odour is light Sweet and Fresh, Warm reminiscent of Carrot. The taste is Warm, Spicy biting at high concentration but Piquant. |
| CAS No. | 8015-88-1 |
| FEMA No. | 2244 |
PHYSICO-CHEMICAL PROPERTIES: - SPECIFICATIONS RESULTS
| | |
| --- | --- |
| Specific Gravity | At 20 0.9200 To 0.9600 0.9511 |
| Optical Rotation | +10 To +30 +22 |
| Refractive Index | 1.4900 To 1.5100 1.4930 |
| Caratol | >70% To 75.67% |